1.e4 e5 2.Nf3 Nc6 3.d4
The Scotch is an opening players throw at you to avoid the well analyzed lines of the Ruy Lopez.
Scotch Game Wikipedia page
for starters and general knowledge about the opening and its variations.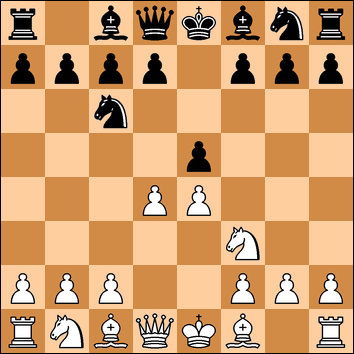 Scotch Articles and Lessons
Scotch Gambit Article
- Simple article on the main lines
Adventures of the Scotch Scrapper
-Article by Karl van der Weide
Goring Gambit Declined
- plans for black to counter this Gambit
ChessCafe Articles
C45 - Scotch Game
- Informant at ChessCafe
A Glass of Scotch
- Article about the Scotch Gambit
A Second Dram of the Scotch Gambit
- 16 pg Article of the 2 main Accepted Variations of the Scotch Gambit
Scotch and Ice
- 13 pg Article about Resurgence of Steinitz Variation
Three Part Post on
The Chess Mind blog
on The Goring and Danish Gambits
Two perspectives on the Capablanca defence
- part 1
On the Goring and Danish Gambits
- part 2
How to handle the Goering and Danish Gambits with one easy line
- part 3
Scotch Game Chess Puzzles

(From 10,000 Chess Puzzles)
Scotch Game (C45)
- 1.e4 e5 2.Nf3 Nc6 3.d4 exd4 4.Nxd4 (10 Puzzles)
Annotated Games

Kasparaov vs Nikolic - Scotch Game Article annotated by Yasser Seirawan
The London-Vienna Correspondence Match - Article by Tim Harding
Deep Fritz - Kramnik, Vladimir (2807) [C45]
Scotch Video Lessons
Scotching the Scotch
- 28 Min Video Analysis of a Scotch Game by FM Dennis Monokroussos(Excellent Video)
Scotch Game Steinitz Variation
- 10 min Video
Scotch Gambit
- Strong Lines for Black 21 min Video
Chessvideos.tv
Scotch Game Videos
- 22 Analysis Game Videos running from 5 min-35 min in length.
Scotch PGN Game Downloads
from
PGNMentor.com
Goering Gambit
- 1430 games
Scotch Gambit
-4171 games
Scotch 4.Nf6
-4469 games
Scotch 4.Bc5
- 5666 games
Scotch Other 4.
-2777 games
C44
- 4885 Games - (From Bookuppro.com)
C45
- 6783 Games - (From Bookuppro.com)